Welcome to
Krapar yev Kini
Զձեզ ընդունիմք առ

«Գրաբար եւ գինի»
Krapar yev Kini — Clas­sical Arme­nian and Wine — is an informal educational program of the Zohrab Information Center, which seeks to expose the public to some of the vast corpus of literary treasures written in grabar (գրաբար), the classical form of the Arme­nian language, and the liturgical language still used by the Arme­nian Church to this day.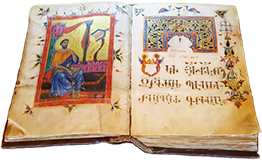 We usually meet monthly, more or less, on the Zoom platform, usually on a Monday at 7:00 pm (et). Each session is led by a scholar or advanced student of the language, and revolves around a specific Krapar text, some of which have never been translated into English, or exist only in unpublished, manuscript forms. With the guidance of the presenter, the session attendees generally participate in reading, translating, and discussing the text.
Krapar & Kini isn't designed to teach Clas­sical Arme­nian, although basic aspects of the language are presented on occasion, and the discussions sometime involve elements of etymology or grammar found in the text. Instead, the purpose of Krapar & Kini is to broaden the participants' awareness and appreciation of the splendid body of writings (գիրք) in the language.
Knowledge of Armenian (Modern or Clas­sical) is helpful, but not necessary, to take part in Krapar & Kini. In fact, some of our regular participants do not speak Arme­nian at all, but join the sessions to hear the texts recited in the original Arme­nian, listen to their translations, engage in the discussions, and leave with a greater understanding of the vast wealth of Krapar.
We invite you to join us—with a glass of wine in one hand and a Krapar text in the other—as we come together and learn in a relaxed and congenial setting. For further information, or to be added to the Krapar & Kini mailing list for meeting details (Zoom link, ID, password), please contact us by email.